Setting up the iRig Blueturn is easy.
Press and hold the left foot pedal, turn on device.
The two pedals will blink.
Press and hold the left foot pedal again and the left pedal will stay lit. You are now in mode 1. Mode 1 is the BT-105 mode for the iRig Blueturn.
Next, go to the Bluetooth settings on iPad and pair the iRig Blueturn like any other bluetooth device.
Finally go into unrealBook, choose settings->network, choose Airturn Setup. Make sure Airturn Support is set to ON.
In the Airturn Window choose add Keyboard Airturn. (Version 4.24 and later)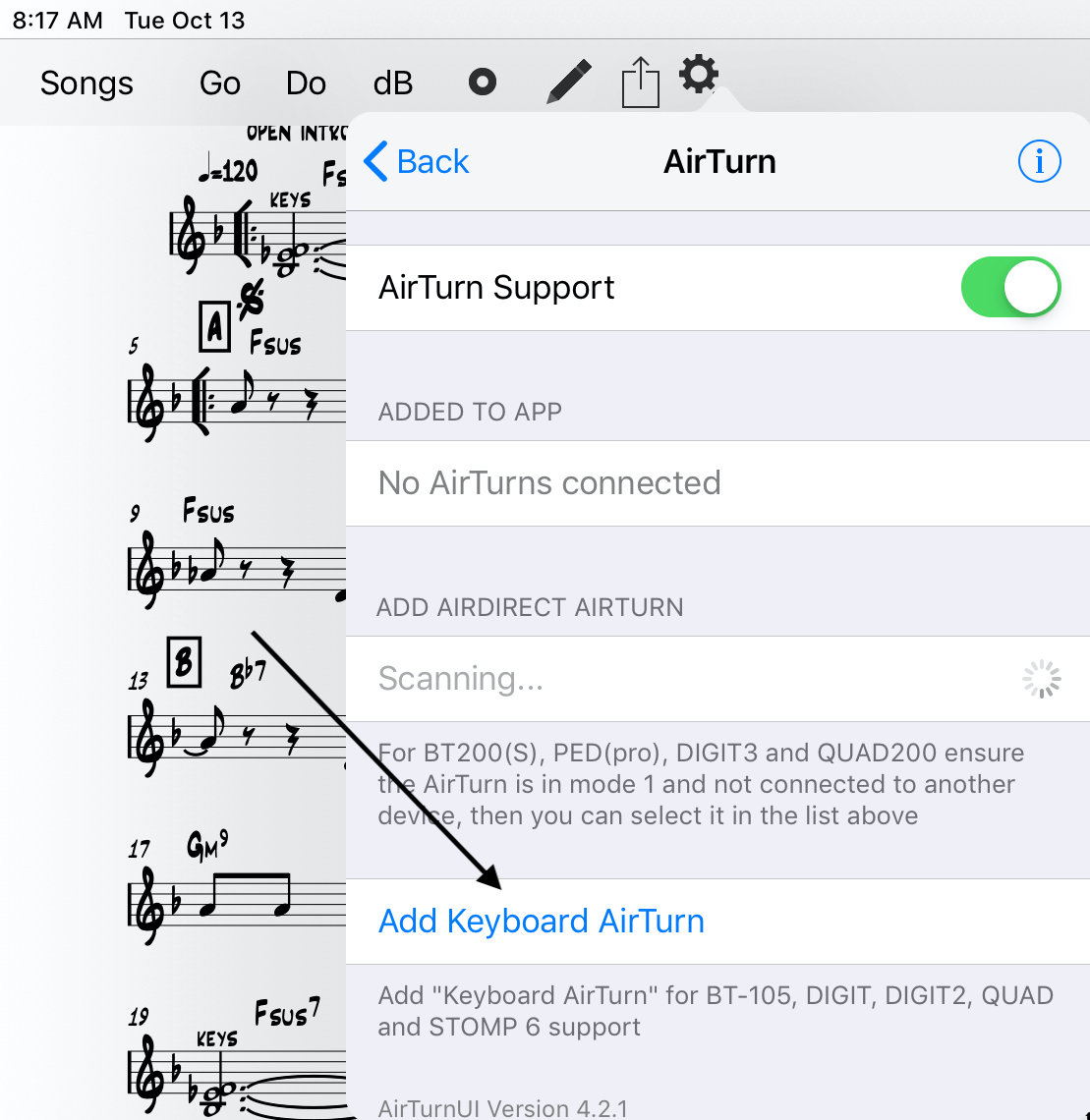 For more information watch this video.
(Older versions of unrealBook).
Select my device is a BT-105. (If Keyboard is available, choose this selection instead).

The iRig Blueturn should now turn pages.
NOTE: The Blueturn is like a bluetooth keyboard pedal. To show the on screen keyboard, press and hold the UP pedal for 3 seconds. To hide the keyboard, press and hold the up pedal for 3seconds again.
NOTE: The iRig Blueturn requires Bluetooth LE 4.1 so it does not work with iPad2.
Compatible with iPhone X, iPhone 8 Plus, iPhone 8, iPhone 7 Plus, iPhone 7, iPhone SE, iPhone 6s Plus, iPhone 6s, iPhone 6 Plus, iPhone 6, iPhone 5s, iPhone 5c, iPhone 5, iPhone 4s, iPod touch (6th and 5th generation), iPad Pro, iPad mini 4, iPad Air 2, iPad mini 3, iPad Air, iPad mini 2, iPad 4th generation, iPad mini, iPad 3rd generation. iOS 5.0 or later is required.